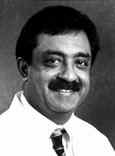 Dr. Minocha currently serves as Professor of Medicine and Director, Division of Digestive Diseases at the University of Mississippi Medical Center in Jackson, MS. He is board certified in gastroenterology, internal medicine, nutrition and geriatrics. In addition, he is fellowship trained in clinical pharmacology and medical toxicology.
Dr. Minocha is a Fellow of the American College of Physicians, American College of Gastroenterology and American College of Forensic Examiners. He is the gastroenterology editor for Veterans Health Systems Journal and a medical editor of the Gastroenterology Textbook of eMedicine. He has authored or co-authored scores of articles in peer reviewed scientific literature.
Complete resource for digestive health.

It's been said that health begins in the stomach. When digestion is not working properly, the whole body suffers. Skin rash, bad breath, headache, fatigue, overweight, and premature aging can all result from poor digestion-not to mention gastric disorders like heartburn, indigestion, and irritable bowel syndrome. But nearly half of digestive disorders can be averted with proper eating, exercise, stress management, and related lifestyle modifications.

In Natural Stomach Care , gastroenterologist Anil Minocha, M.D., combines the wisdom of traditional Eastern healing with the advancements of conventional Western medicine to offer a wide range of easy-to-use, affordable, and effective at-home natural therapies that can strengthen digestion, keep the colon clean and the bowels moving, and improve overall health. In addition to recommendations for overall digestive health, Dr. Minocha provides remedies for a host of digestive complaints. Treatments include healing Chinese herbs, Ayurvedic medicine, yoga, tai chi, probiotics, vitamin and mineral supplements, and lifestyle changes, making Natural Stomach Care an innovative, integrative approach to digestive health.